Rockingham Community Awards
At an awards ceremony held at the Gary Holland Community Centre last week, several long-serving volunteers of the City of Rockingham were recognised and celebrated for their dedication and commitment. The event was held to acknowledge the Years of Service awards for City volunteers who have tirelessly contributed their time to various City services, including the Rockingham Volunteer Centre, Autumn Centre, Neighbours Unite, Rockingham Connect Community Transport Service, libraries, and City events.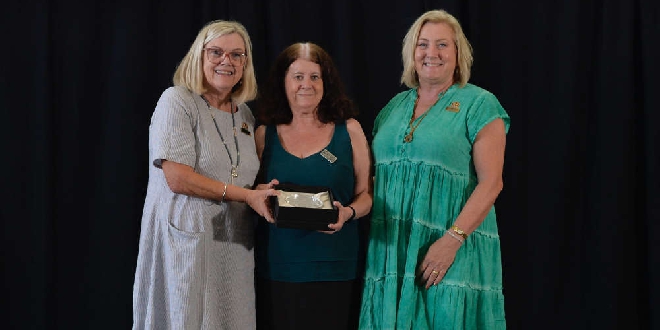 Mayor Deb Hamblin and Cr Caroline Hume with volunteer Lyn Amm, PIC: City of Rockingham
The outstanding contributions of two volunteers, Tony Gale and Lyn Amm, were particularly highlighted. Both Waikiki residents, Tony Gale, with 20 years of service, has contributed countless hours to the City by supporting Neighbours Unite, volunteering on advisory committees, and serving as a Castaways Sculpture Awards volunteer. Lyn Amm, on the other hand, with 25 years of service, has volunteered for Neighbourhood Watch (now Neighbours Unite), Safety for Seniors, and the Rockingham Connect Community Transport Service.
Other notable volunteers were also recognized, including Jodie Swallow and Ann Winn, who were acknowledged for their continuous five years of service with the City. Toni Williamson was presented with a 10-year service award, but in reality, she has volunteered for 14 years.
Mayor Deb Hamblin expressed her gratitude to all volunteers for their selfless contribution to the City. She emphasized the critical role that volunteers play in community connectedness and wellbeing, which are key aspirations in the City's Strategic Community Plan.
The City has presented these awards to its volunteers only twice. The first presentation was held in December 2022 at the City's Thank a Volunteer Day celebration. Mayor Hamblin encouraged community members interested in volunteering to visit the Rockingham Volunteer Centre (RVC) located at Rockingham Library.